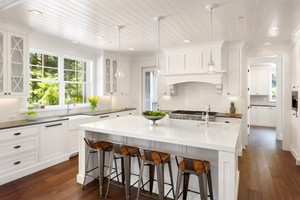 Selling your home can be an uphill climb, particularly for those who fail to devote the necessary time and resources to enhance their kitchen.
The kitchen serves as a central meeting place in any home, regardless of size. As such, home sellers will want to do everything they can to create a warm, inviting kitchen atmosphere that helps make their residence attractive to homebuyers.
Ready to transform an ordinary kitchen into one that homebuyers won't soon forget? Here are three kitchen remodeling tips that every home seller needs to know.
1. Consider All of Your Lighting Options.
Pendant lights represent wonderful additions in a kitchen because they make it easy to brighten up the entire space. Plus, these lights are both stylish and practical and may prove to be a viable option in your kitchen for an extended period of time.
Furthermore, under-cabinet lighting offers outstanding value, especially for those who want their kitchen to stand out to homebuyers.
As a home seller, you'll want to do everything you can to impress homebuyers whenever they visit your residence. And with small, inexpensive under-cabinet lights, your kitchen may be better equipped to make a long-lasting impression on homebuyers.
2. Don't Break the Bank to Revamp Your Kitchen Floors.
Over the years, your kitchen floors may have suffered scratches and dings that you'll want to eliminate as soon as possible. Although your kitchen floors may be an eyesore, you won't necessarily need to break the bank to enhance their appearance.
For example, if you have wood floors in your kitchen, you may be able to refinish them rather than having to commit substantial time and resources to replace them. Refinishing wood floors may allow you to make them appear as good as new, and the time and money you save by choosing floor refinishing over floor replacement could be invested in other home repair projects as well.
Also, if you have tile or vinyl kitchen floors, you may want to consider sealed cork in the future. Sealed cork boasts a distinct look and feel and will maintain its appearance for years to come, making it a stunning and cost-effective kitchen floor replacement option.
3. Consult with a Real Estate Agent.
Improving your kitchen can be exceedingly difficult for any home seller, at any time. Lucky for you, real estate agents are available who understand what it takes to revamp a kitchen's appearance in no time at all.
Hiring a real estate agent may prove to be a great choice. This professional will help you evaluate your kitchen and ensure you can complete the right repairs to enhance its appearance. Moreover, your real estate agent will make it simple to establish priorities so you'll be able to allocate time and resources to the right kitchen repair projects.
When it comes to enhancing your kitchen, why should you be forced to leave anything to chance? Instead, work with a friendly, experienced real estate agent, and you can streamline the process of transforming your kitchen into an asset that helps your house stand out to homebuyers.