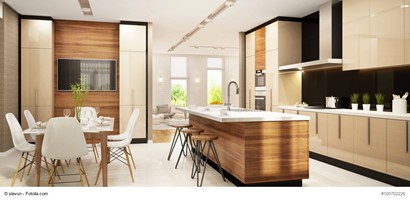 Kitchens have become the new hip gathering spot in the home. With open floor plans, kitchens are combining the cooking, dining, and hanging out areas of your home and meshing them into one big room. Counters and islands have become tables, trading for fancy dining tables. People tend to congregate in the kitchen, allowing it to be the center of food, fun, and conversation. How can you make your kitchen ultra inviting? Below, you'll find a few tips to help bring your kitchen to a new level of trendy.    
Bright, Attractive Cabinets
Cabinets are one of the focal points of the kitchen. If you have bright cabinets, it attracts people to the room. The type of cabinets that you have also establish the type of style that you're looking to create in the kitchen and possibly throughout your home. You'll want to work the entire color palette of your kitchen around the color and style of your cabinets. As a bonus, good cabinets equal good storage. If your kitchen is organized, you'll feel a lot happier and at ease in the room as well.
Technology
Kitchens are becoming increasingly technological. From smart, energy efficient appliances, to features of the kitchen that you can control with your smartphone, a kitchen can truly have it all. This makes entertaining a breeze. You could even get dinner going before you ever leave work! All of the new technologies that are being introduced surely make life much easier. 
Advanced Lighting


The type of lighting that you employ in the kitchen can set the tone for the whole room. Not only do you need good task lighting, but ambient lighting is important as well in order to attract guests to the main gathering place of the house. Whatever vibe you want your kitchen to give off works with the lighting that's available. The kitchen certainly should never be a dark room. Consider the safety factor that's needed in the room, then realize just how inviting a room is that is bright and airy. It's important to plan out your lighting scheme accordingly when it comes to your kitchen. 
Storage
One thing you'll want plenty of in your kitchen is storage. This helps to reduce clutter, increase organization and makes entertaining an easier undertaking. Guests will feel more welcome as there will be ample room to sit and hang out while prepping and cooking are going on. 
It seems that trends in kitchens are always changing, however, many things remain constant. The need for a clean and organized gathering area in your home will never go away.